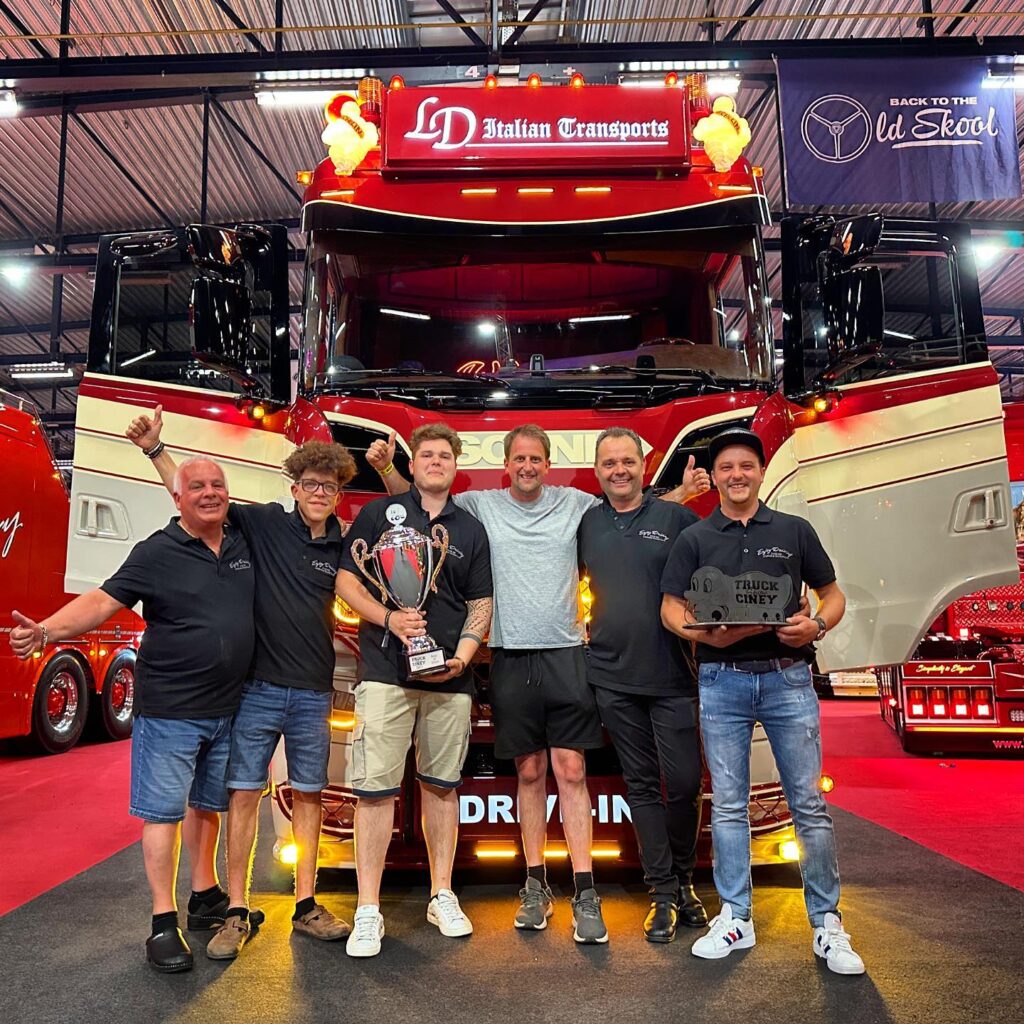 "That was a lesson learned," said Shelley Puzek-Pulli, making reference to the picture you see up top here — results of a crash that her husband, Tim Pulli, was involved in almost 11 years ago to the day. He was a little more than a half-decade into his time as an owner-operator, leased to a carrier and, that fateful day, hauling hydrochloric acid.
Some lessons are learned after motivational factors present themselves from within. Others, like this one, are instigated from without.
"That truck was really nice," Tim said of the 2007 Mack, "very low miles when we got it," moving into tanking after dump work in and around their home in greater Chicago. He was on the Tri State Tollway around the city that day when a "random driver decided to do a U-turn on the toll road," crossing back over from the other side of the freeway. He didn't make it back across the crowded four-lane. The collision and Tim's efforts to avoid it "put the truck on its side … and spilled hydrochloric acid" all over the road.
"All four lanes were full," Tim said, "everybody was moving and he thought he could make it across."
Fortunately, Tim emerged uninjured. Not so the truck, and more importantly, at that time, the Pullis, owner-operators of Pulli Express, Inc., had three young children at home. "We had a meeting and discussed that maybe hazmat is not where we should be," Shelley said, and began casting a net for a new niche within tank work.
What they found was meant to be. Today with their own authority, they haul almost entirely dedicated to the Sweetener Supply liquid-sugars shipper in their area. Pulli Express owns two running pieces of powered equipment, a couple spare trucks, and four tank trailers, leasing on an owner-operator running under their authority, too. They've turned increasing profits in recent years with Shelley's move from the back office to the cab.
After that fateful event and "a serious conversation" about "where we want to be as a family," as Shelley put it, Pulli Express' subsequent growing success is such that the owner-operators are Overdrive Truckers of the Month for March.
Prioritizing safety and minimizing risk, they found the food-grade-liquid niche for a long-term home. At the time of the wreck, there were three young children in at home. "I was bringing one to the preschool at that point," Shelley said. They redoubled their hold on the business along the way, and their steady-as-she-goes success is a testament to the pair's teamwork to build a life and business with recognition of the fact that "everything is a lesson," or holds learning potential at the every least, as Shelley has it.
Owner-operator Tim Pulli represents the third generation of his family in trucking, and he attributes his entry into driving himself to his brother. "I was trying to stay away" from trucking early on as an adult, he said, yet "inevitably I got involved."
He got his CDL around the turn of the century and initially moved appliances, then became a household mover. He got into straight-dump work soon after. In the early days, he didn't have any clear aspiration to truck ownership, if he even knew that buying his own truck might be a viable option.
Shelley was in a real estate family, and followed them into business for herself — a fact that would prove beneficial to Pulli Express down the line.
"I talked her into buying a tractor in 2005," Tim said, about a year into the dump work. "She was hesitant" at first, "thinking that real estate was going to be a game changer" for the family. Yet the 1998 Mack CH daycab and a Pit Boss dump trailer served Tim well for a time.
Before the truck purchase, he "was working for a buddy [who] had a small business going" and just a couple dumps. "Someone had tipped over one of his trucks, and [the owner] took the dump truck" that Tim had been driving for himself. "I was left out. We needed to do something."
Tim bought the Mack daycab and ran it for a good while, including after getting into tanking hauling hazmat chemicals. Then he traded the vocational-spec rig for the 2007 Mack Rawhide sleeper rig that would take him up through the accident. With the soul-searching that went on in the aftermath, a dispute with the carrier Pulli had leased to led even more in the way of change. In early 2013, Pulli Express got its motor carrier authority.
Shelley wasn't involved in the business to a huge extent in those early days other than doing the books, though her experience setting up an S Corp tax structure for her real estate business helped nearly from the get-go. Today, the Pullis pay themselves a modest salary and save on self-employment taxes by routing profits back through the business. Shelley set that structure up early on.
When they got authority in 2013, though, around the time the last of their daughters was born, she began to take a more active role.
The path to Sweetener Supply and its dedicated, in-house Trans-Distribution Inc. company for delivery of its products went through experiments with spot-market freight. "We did a little road work, then flatbed work, just trying to stay out on the road running load boards," Tim said.
"We had our last kid, and she was four weeks old," Shelley said. "He was like, 'I'm going out on the road,' and I got really involved dispatching. We did it for about six months and realized it wasn't worth it for me to be dispatching."
Given the pressures raising four kids and trying to make everything else work, they wanted a solid customer, ideally with dispatch capability to help them outsource that task, to feed freight to Pulli Express.
As most in this audience well know, with authority and more control over the business, Shelley noted, came more responsibility. "There's more paper pushing — registration, IFTA, insurance, dispatching. At that point I just kind of took it over and went with it." Her involvement in the business continued to grow.